Top Las Vegas Dayclubs
You've landed in the right spot to get all the right information on the best dayclubs and pool parties in Las Vegas, and we want to make sure you know all the events and get the hookups for guest lists and table service. We take pride in connecting you with the top daytime fun in Sin City, and will make sure you won't waste your money heading to the wrong pools. It's going to be a fantastic summer, and Vegas dayclubs are bringing the top DJs, headliners, and live music performances for May through October.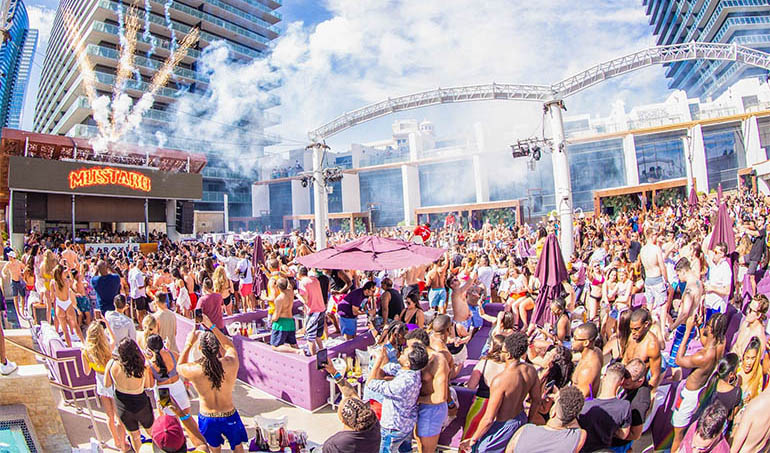 Located at the Cosmopolitan Hotel puts Marquee Dayclub in the center of The Strip. This pool party is the perfect size. Marquee is known for throwing awesome day parties with go go dancers and crowds that are ready to let loose. There is also a great lineup of DJs every season. With bars on both sides of the venue it is easy to get a drink and jump back into the water. Open for Friday, Saturday, and Sunday.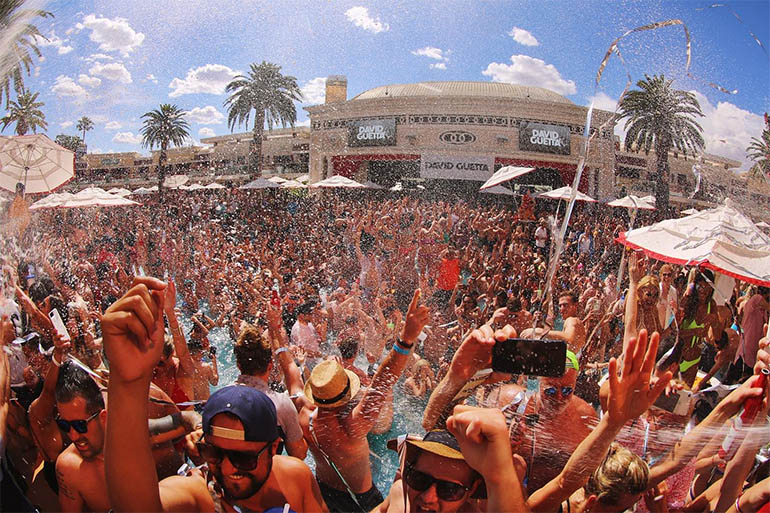 Be ready for top tier DJ talent and a massive venue for pool parties. Encore did not miss any piece of pure luxury as the venue is home to multiple bars, daybeds, cabanas, and water couches. The true VIPs will be found at bungalows that have direct views of the live performances. EBC has a gaming area with lots of shade. Guests can easily take a break from the sun to relax under this area which includes a bar and tables for a little gambling. Catch all the fun in the sun every Friday, Saturday, and Sunday.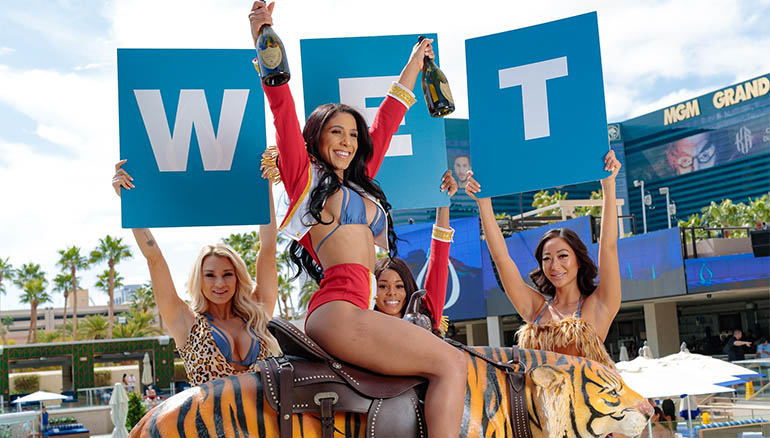 Wet has been a leader in the daylight scene year after year at the MGM Grand Hotel. It plain and simply throws massive events that people love with massively popular performer and DJ talent. On top of that, the waitresses at this MGM pool party are some of the sexiest in town. Add in multiple pools, a massive LED screen for video mapping, and a shaded area to escape the heat, and it's no wonder this spot is a hit. Available to attend on Monday, Thursday, Friday, Saturday, and Sunday.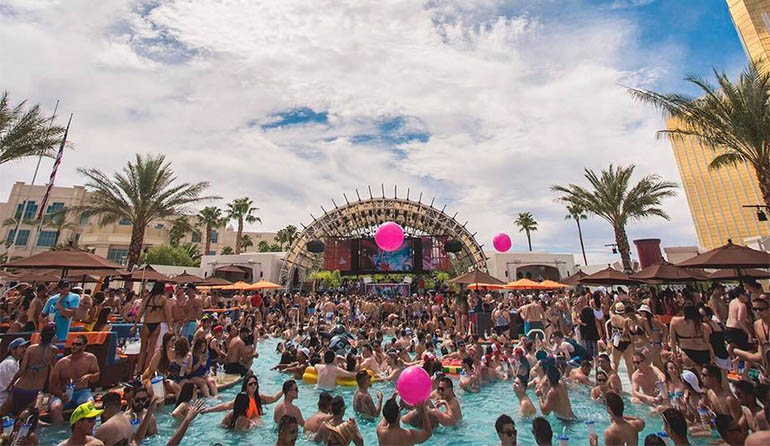 Daylight brings live performances with hip hop stars for its favorite events and DJs that play the music you love to the Mandalay Bay Hotel. You will also enjoy the massive stage and wild lights. Cabanas at this day club have their own pools for a more private experience under the sun. The venue is open on Thursday, Friday, Saturday, and Sunday. Daylight Beach Club has its own entrance and valet. Make sure you tell your transportation where you want to be dropped off at.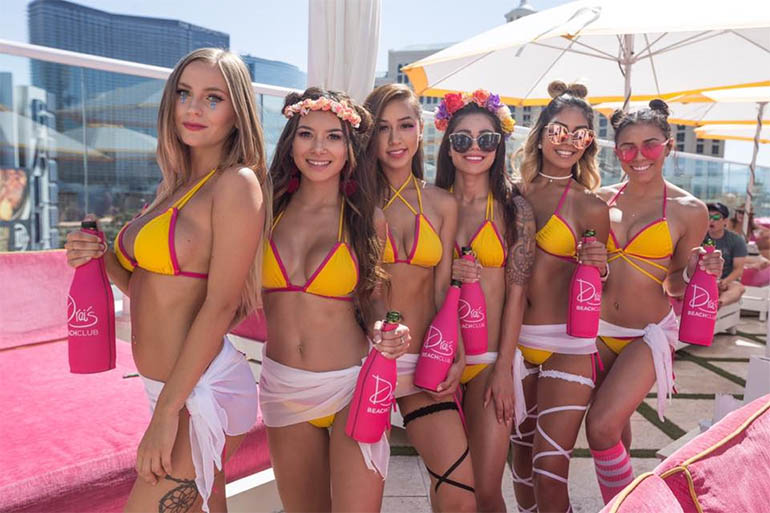 This pool venue is one of the best looking in Vegas and guests enjoy a rooftop pool with views of the Las Vegas strip. Be prepared for open format music which is a nice blend of dance and hip hop throughout the day. The staff is fantastic at Drais and you will be impressed with everyone from the waitresses and bussers, to security and hosts. This dayclub is open on Friday, Saturday and Sunday. You can't go wrong with multiple pools and bars and some of the best hip hop performances throughout the summer season.

Tao Beach is one of the longest running pool parties in Vegas. They may have a smaller venue, but it is a party that should not be missed. Fun seriously lives here for the summer months on Friday, Saturday, and Sunday. Your ears will thank you with summer vibes and fantastics DJs. Tao is known for its unique pool side drink menu. You will discover something new here to delight the taste senses. The perfect place to lounge in a daybed, or get wild at the bar. There is always something for everyone at Tao.

While this pool party at the Aria Hotel may not have crazy headlining DJs it makes up for it it's party energy. At Liquid people will be in the pool letting loose to the top music with party toys and elite energy. Enjoy open format music for the perfect blend for every day event. This pool is known for its Champagne Showers presentation that takes over the entire party. Catch the fun every Thursday, Friday, Saturday & Sunday.
What Are The Most Popular Dayclubs In Las Vegas?
When it comes to the most popular pool parties and dayclubs in Las Vegas you'll find the following venues always on the list:
What Makes A Day Popular In Las Vegas?
The dayclubs in Las Vegas that become popular all have similar things in common, and that's a good thing. They all have fantastic venues that include pools and that latest display technologies as well as fantastic talent for DJs and musical acts. It should be no surprise that people flock to the most popular each week.
How To Determine What Is The Hottest Vegas Pool Party Right Now?
The most simple way to determine what is the hottest Vegas pool party right now is to check out the
dayclub event calendar
.
How To Get Into The Best Dayclubs In Vegas?
The easy way to get into the top dayclubs and pool parties in Vegas is to use our free guest lists. Head to our
Las Vegas Dayclubs page
to easily get started.