Top Las Vegas Nightclubs
It's time you learned everything about the top 10 nightclubs in Las Vegas for 2022, and this includes which Vegas clubs are the most popular. With clubs everywhere in Sin City, we want to make sure you know the best club venues so you don't waste your time and money in the wrong places. Plus, you'll have full access to our event calendars, guest lists and bottle service packages. 2022 is going to continue to be fantastic with DJs, live performances, and parties for the year. You can also see the biggest clubs in Vegas too.

Club Hakkasan lives at the MGM Grand Hotel. Being one of the most popular nightclubs in Las Vegas is not easily earned. Hakkasan has created one of the most over-the-top main rooms with the world's top DJs and theme decorations and dancers that change nightly. If you like DJs Hakkasan brings the best like Tiesto, Lil Jon, and Party Favor. There is also a second club inside Hakkasan called the Ling Ling Room which brings more open format music. Hakkasan is open each week Thursday, Friday, Saturday and Sunday nights.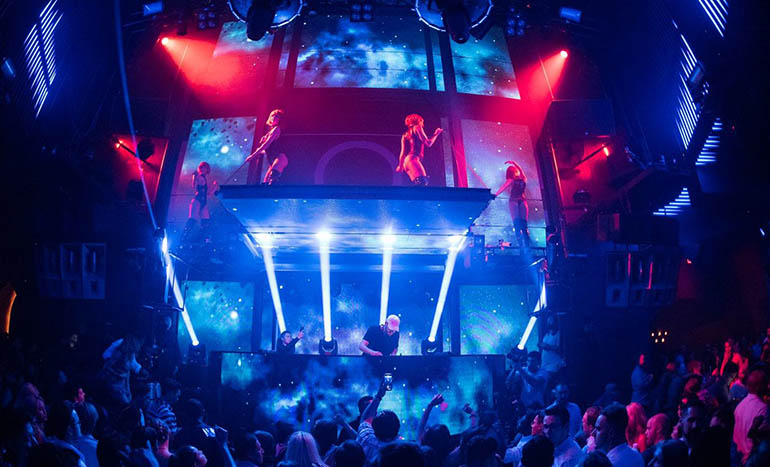 You'll find Marquee Nightclub at the Cosmopolitan Hotel. With one of the best main rooms in Vegas, Marquee creates a scene each night that is high energy fun. They've got everything you expect from a top club with great music, amazing electronic displays LED systems throughout the club, and live performing dancers and go go's throughout the club. Marquee brings top DJs like DJ Mustard, Dash Berlin, and Tritonal sprinkled in with live performances for major events. At night the pool area surrounding Marquee Dayclub is connected to the main room of the club. Users have the option to escape the interior of the club and enjoy the nighttime pool area. The best nights to attend are Monday for industry night and Friday and Saturday.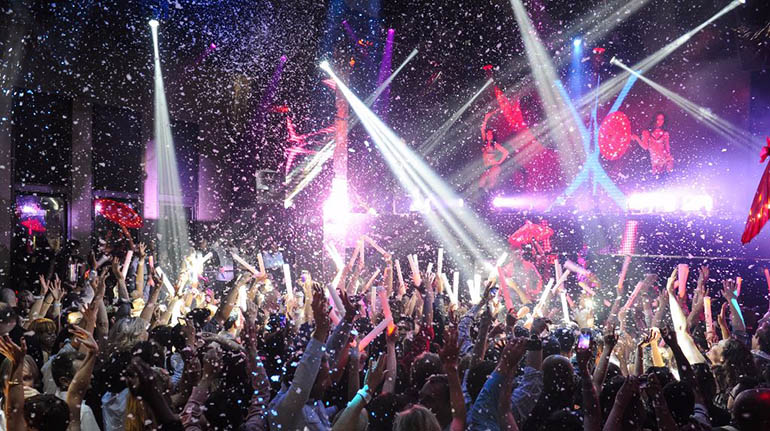 Groups looking to party in Vegas will find Tao Nightclub at the Venetian Hotel. Even though Tao has been around for many years it has remained one of the top clubs to visit. This is due to the fact that it makes upgrades each year and continues to bring great DJs and music. Guests have a club with multiple rooms and music and that is fun to explore in, drink at, and socialize. Be ready for music from DJ Vice, Chase B and Justin Credible. Tao has always had some of the hottest dancers in Las Vegas and you'll be right at home here on Thursday for industry night and Friday and Saturday.

Jewel Las Vegas is found at the Aria Hotel near the center end of the strip. This club fits perfectly between being smaller than a megaclub but large enough to throw amazing parties. This medium size lets everyone be part of the action that involves the best music including hip hop and a dance floor that goes all night. While popular DJs frequent Jewel it is more of a hub and hangout for celebrities and live performances. You'll find Tyga and OT Genasis with appearances here. The design and lighting in Jewel is just different than other clubs, and that is a good thing. People are there to plain and simply have fun. Monday nights are industry a nights and you'll also find events here on Friday and Saturday.

Drai's is located at the Cromwell Hotel and being located on the roof of a Las Vegas hotel has some interesting perks. Drais gives users dual options in nightlife having both indoor and outdoor areas to party. While other clubs have focused on DJs, Drais has created an environment tweaked for live musical performances from today's top artists. Think of it as special concerts you can't get anywhere else. You can expect musical performances by Migos, TIP, Meek Mills, and Trey Songz. The lighting system and LED displays surrounding the club are immaculate. High end bottle service packages include firework displays that shoot off of the top of the venue. Sunday's focus is hip hop for Sundrais events. The best nights to go to Drai's are Thursday, Friday, Saturday, and Sunday.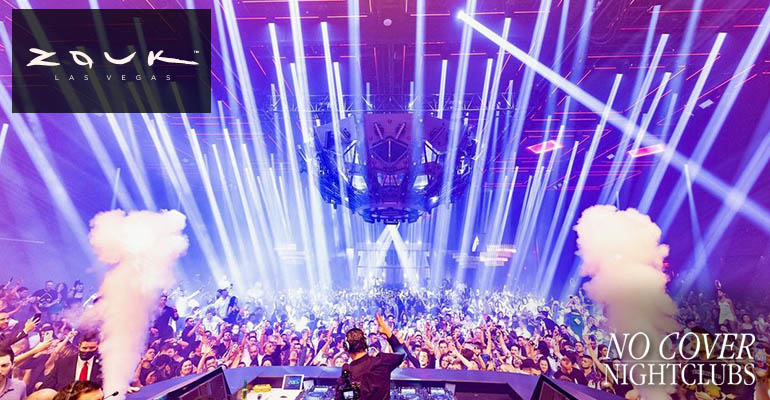 Resorts World Hotel is home to Zouk Nightclub in Las Vegas. The club has massive LED walls and wild ceiling lighting that enhance the entire nightlife experience. Performances are customized and each night the theme can be something different. Club Zouk has chosen a balance when it comes to talent and performances. Guests will get a mix of top 40 and EDM with live performances from artists like Jack Harlow. Be excited to dance with the performers throughout the night in areas on the dance floor and at the VIP tables. You will want to attend this venue on Thursday for industry night and Friday and Saturday.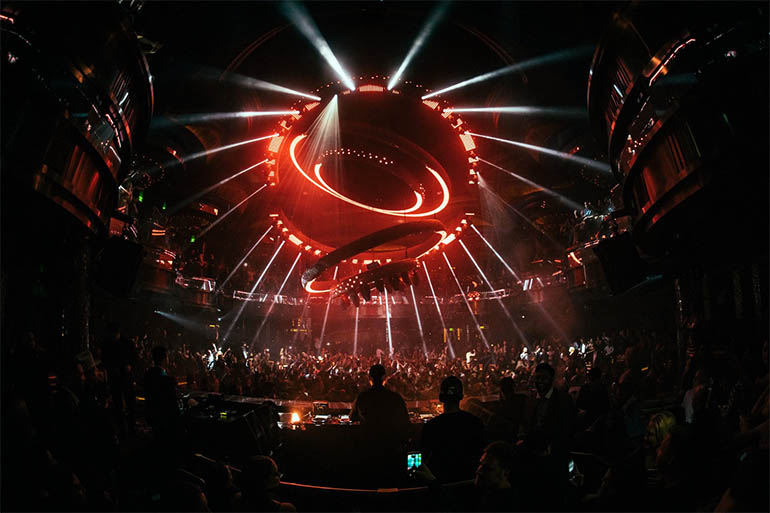 Omnia Nightclub lives at Caesars Palace in Las Vegas and has has three drastically different rooms to party in. The main room is focused on headlining DJs, is two stories with the newest technology, and an incredible dynamic chandelier that has to be experienced. The second room is the Heart of Omnia which has a focus on open format music and has a darker design with LEDs animating almost all of the walls. The outdoor terrace represents the third location at Omnia with a unique vibe of its own that overlooks Las Vegas Blvd. Being one of the newer nightclub in Las Vegas means they have the top DJs in the world there on the regular. Calvin Harris, Steve Aoki, Nightmre, and Zedd have had residencies. Club Omnia is a megaclub but was designed with the most room at the bars compared to other nightclubs in Las Vegas. A drumline performs bottle service presentations throughout the night. The best nights to attend are on Tuesday for industry night and Friday and Saturday. Sundays are unique with Deseo events.

This unique nightclub found at the Paris Hotel has a rooftop nightclub experience under the stars and under the Eiffel Tower. It's not too often you get to say that. Open format DJs like Koko and Shadow Red call Chateau home and they mix in live performances and celebrity appearances like the Backstreet Boys. When special events like UFC or boxing come into town Chateau always throws special events and has celebrity appearances that coincide. Catch events at Chateau on Wednesday for industry night and Thursday, Friday, and Saturday.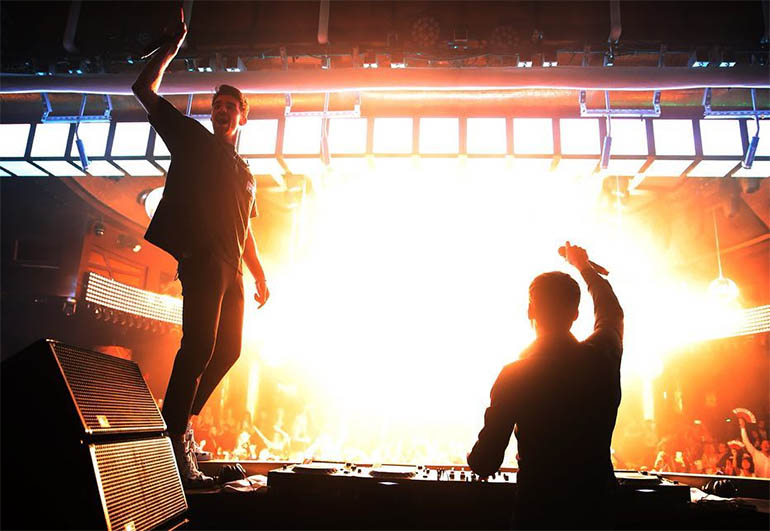 The Encore Hotel's elite nightlife experience lives at XS. They have created the most elegant nightclub experience with decor and design that is unmatched. It's hard to simply describe the design at all locations through the club. Guests have the option to party both inside and outside at the pool area, even at night. XS has remained one of the most popular venues in town, and it's for good reason. XS brings the world's top DJs like The Chainsmokers, Diplo, and David Guetta. On Sunday nights during the summer XS flips a 180 and turns the part into their Nightswim pool party. Be on the lookout for Friday, Saturday, and Sunday nights at XS.
Best Nightclubs In Las Vegas Video
What Are The Most Popular Clubs In Las Vegas?
The most popular clubs in Las Vegas are typically the larger clubs and the ones with the top DJs and musical performances:
What Makes A Club Popular In Las Vegas?
Clubs in Las Vegas are popular because of a combination of having amazing venue design, out of this world artists and DJs, incredible and fun staff, and for throwing parties like no other clubs on the planet.
How To Determine What Is The Hottest Vegas Club Right Now?
The easiest way to figure out what is the hottest Vegas club right now is to check out the
club event calendar
.
How To Get Into The Best Clubs In Vegas?
The most simple way to get into the best clubs in Vegas is to use our free guest lists. Head to our
Las Vegas Nightclubs page
to easily get started.