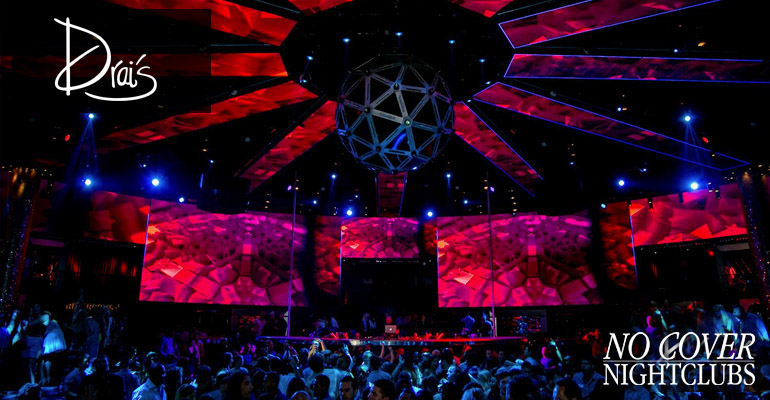 NIGHTS OPEN: Thurs, Fri, Sat, Sun
LOCATION: Cromwell Hotel & Casino
How Much Is Bottle Service At Drais?
| Location | Min. Spend | |
| --- | --- | --- |
| Pool Deck Table For Up To 5 Guests & 1 Bottle | $1,000 | Select |
| Pool Deck Bungalow For Up To 10 Guests & 2 Bottles | $1,500 | Select |
| Banquette Table For Up To 12 Guests & 3 Bottles | $2,000 | Select |
| Patio Dance Floor For Up To 15 Guests & 4 Bottles | $2,500 | Select |
| Dance Floor Table For Up To 20 Guests & 6 Bottles | $4,000 | Select |

Bottle service more than you have budgeted for? Check out the Drais guest list instead.
Common bottles of alcohol are priced between $550 and $595. See the Drais menu below. These prices do not include 8% tax and 20% gratuity. The price for the tables and the bottles are the same thing. All of your spend for the table goes toward your bottles. Groups should note that for every 5-6 people in their group 1 bottle will need to be purchased. Please contact an offcial Drais host here for the most accurate pricing, menu, table locations, and availability.
Entry level tables at Drais Nightclub start at $1,000 and are typically at locations outside of the main room in the beach club area or on the second level banquet area. Tables getting closer to the dance floor in the main room are priced starting at $2,500. Tables in the main room at the dance floor start at $4,000 and go upward from there. The best tables will have you on the dance floor or by the DJ booth.
Pricing may vary depending on the night of the week, who the performer is, and how busy the club is. Note that for special events and holidays pricing can go up.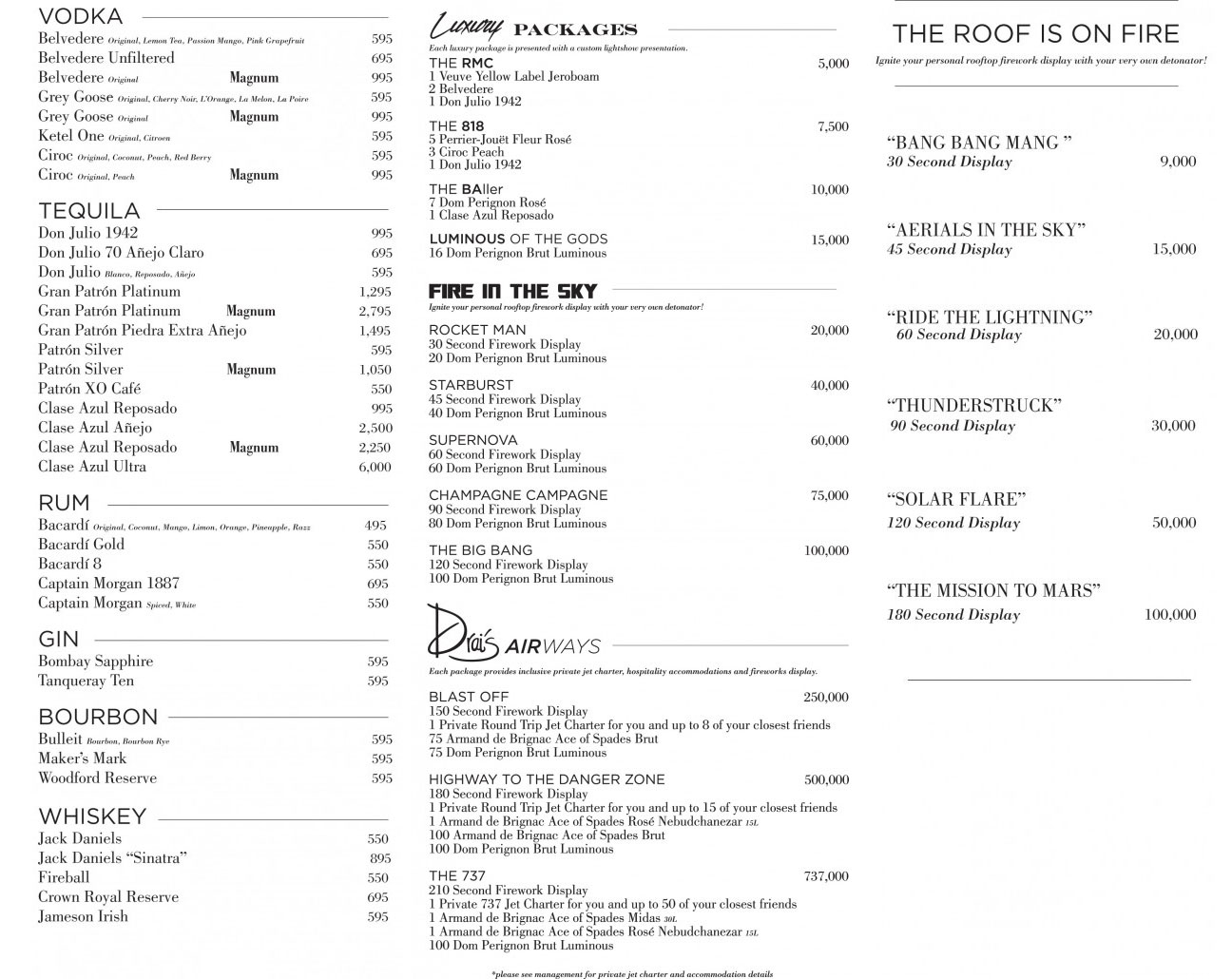 How Does Drais Bottle Service Work?
When you use our site to contact a host about bottle service and table reservations you are working directly with actual Drai's Nightclub hosts. After confirming a reservation you simply arrive at the club and check in with your host at the table reservation entrance. Your table location is dependent upon a few factors that include your arrival time at the venue and your planned spend for the night. Be aware that your reservation comes with your own table and area to sit as well as your own waitress, busser, and security staff. You'll be granted your own spot that is separate from the general public to dance, drink, and enjoy the event. If you have more questions about bottle service in Las Vegas check out How Las Vegas Bottle Service Works.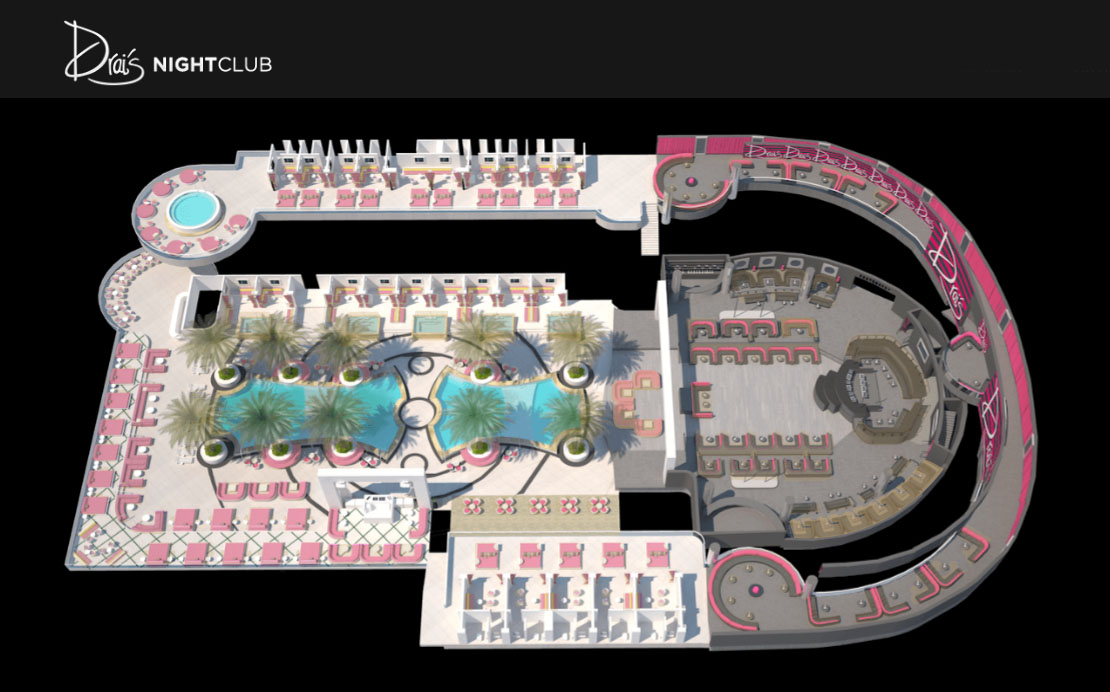 Have Questions About Table Service?
If you have any questions before making your reservation about the nightclubs, the service, how it works, or anything else, feel free to reach out to us and we will get right back to you through our Contact Us Page.
Contact Official Drais Host To Reserve Table
You are one step away from having the ultimate experience at Drais Nightclub. If you have questions about the most up to date pricing, availability, or are ready to reserve a table or find out about the current deals, you can contact Drais guest services hosts here:
The ultimate VIP experience at Drais Nightclub in Las Vegas is found in table and bottler service reservations that gets you the best seats in the house. Drais is one of the unique nightlife venues that focuses on both DJs and live musical performances. Bottle service ensures you get the maximum experience at the party. The tables are in roped off areas that give you and your group your own space to dance, drink, and relax if you so choose. Plus your reservation includes the your own waitress, busser, and security as well as the fastest entry into the club. Simply look for the signs dedicated to table service reservations at the entrance. Bottle service prices, menus, and availability can be provided to you by directly connecting with a Drais VIP host using our form above.
The best tables in Drais are normally located closest to the stage and close to the dance floor. From these areas you will get the best views of the concert like performances. There are also some high end tables located behind the stage and DJ booth that create a totally different nightclub experience. Be ready to indulge and explore the tables that are located both inside and outside along the rooftop patio. Sometimes partying under the stars brings forth an entirely different event. Table location is dependent on a few factors that include how much you plan to spend, the time you arrive at the club, and amount you may provide to nightclub staff.
Connect directly with the Drais hosts and get quote on bottle service reservations. Feel free to ask about Drais bottle prices, menu, and availability.
Drais Nightclub guest list is available for free here.