Some of the biggest parties of the year happen at Las Vegas Dayclubs, or some still call them pool parties. The pool scene brings the biggest names in EDM music, celebrity appearances, and live performances at incredible venues under the sun. It's going to be fun and it's going to be hot.
It is a desert out there after all where temperatures consistently boil into the triple digits. You don't want to be caught off guard wishing you had known to do something differently. Here are some simple tips to make sure you have an amazing experience and don't end up with heat stroke or worse.
Get your hydration on. Let's be honest, you're about to do a full day worth of drinking, and likely went hard the night before. Combine that with being in the Vegas sun you are setting yourself up to be KO'd for the rest of the day or possibly your entire trip depending on your skill level. Drink water the night before, in the morning, and throughout the day at the pool party. You can thank me later.
In a process that makes the TSA look like amateurs, it is common to be searched before admittance into the dayclubs. The goal is to keep illegal drugs out but lots of common items make the prohibited list so you'll want to make sure and leave them behind. These include over-the-counter medications, vitamins, anything in pill form, and an array of liquids including contact lens solution, eye drops, and hand sanitizer.
If you and your group are not getting a cabana, daybed, or chairs arrive early in the day (before noon) and claim a spot on the pool's edge. This real estate is taken quickly so stake out your area with towels and use teamwork to keep the perimeter guarded and you will have a spot for the entire day
Back to being mom again. Apply sunscreen before and throughout the day. You don't want to be that lobster or the one with raccoon eyes from your sunglasses for the remainder of you vacation. Not sexy.
Ladies don't bring a ginormous bag unless you have a cabana. You won't have anywhere to stash it and some pools won't allow bags over a certain size. Avoid leaving your bag and items just strewn about the pool deck or planters (like many people do) where unfortunately it could be ruined or stolen. Note that at the pool parties all bags are searched at the entrance and any liquids, pills, or other items they deem as contraband will be thrown out. The staff is very picky so only bring your essentials. We suggest bringing a small clutch or purse. Lockers are available at most pool venues, but be prepared to stand in line to get in and out of your unit and pay around $50. That wasn't a typo, yes $50.
If you are attending one of Las Vegas' toptional pools like Bare, don't try to be sneaky and snap photos with your phone. Security is on the lookout for you and they will escort you from the venue.
Our Free Las Vegas Services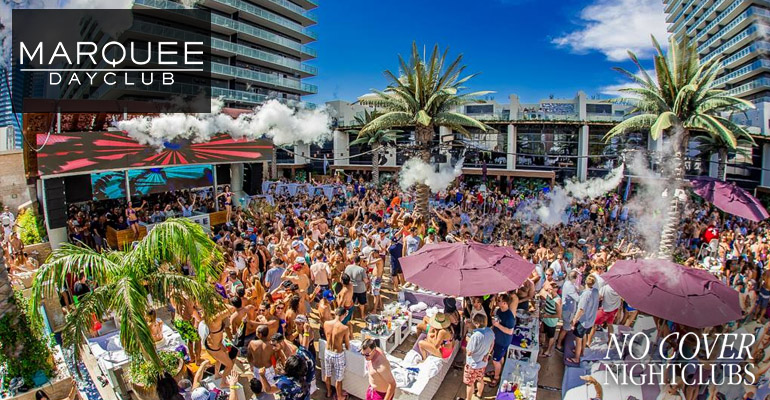 For men and women alike hats are typically overlooked. Use it to block the sun as many of the pools have limited coverings.
Men will be held to a dress code to enter the pool. The dayclubs require that all males wear swimwear. Cargo shorts, gym shorts, or jeans will not be allowed and you will be turned away.
When going for a swim don't leave your sandals out in the sun. Try and find a spot underneath a chair, table, or towel to avoid scorching your feet when you come back to put them on.
Make your life easier by getting on the pool guest lists the day before. You can thank us later.