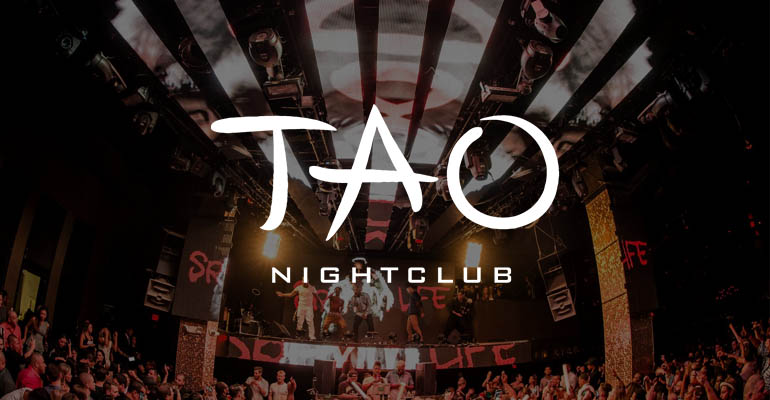 NIGHTS OPEN: Thursday, Friday, Saturday
LOCATION: The Venetian Hotel
Getting on the guest list for TAO Nightclub is easy. Simply
join here
and include your information, date you want to attend, and how many people in your party and No Cover Nightclubs does the rest.
Other guest list information:
Please arrive early and see the upcoming guest list rules below. Guest list entry is always determined by the venue.
Once you have signed up on our list, show up to the venue at 10:15pm and check in at the guest list area located on the patio on the left side of the club entrance. Simply tell them you are on the list under No Cover Nightclubs. No Cover Nightclubs and Tao are not liable for individuals who charged money for the guest list. This is a completely free service. Any charges for arriving after the guest list has closed, or for reduced cover charges, will be made at the venue with the cashier upon entry.
Looking for bottle service at Tao? Get all information about Tao tables for reservations, pricing, and questions.
After signing up, you will receive a confirmation email with directions on how to use the nightclub guest list including check in location and time. On the evening of your guest list date, you will receive a text reminder with the pertinent guest list information.
How Much Does The Tao Nightclub Guest List Cost?
Our guest list for Tao Las Vegas is always a free nightclub service. Join our guestlist at no cost. It only takes a few seconds.
Upcoming Tao Nightclub Guest List Rules
Thursday 9/28 - Greg Lopez • Girls free until 11:30pm - Girls open bar 11:30pm - 12:30am • Guys free entrance until 11:30pm in groups with an even ratio of women or groups with more women than men - reduced cover charge if not even ratio • Locals free with ID
Friday 9/29 - DJ Five • Girls free until 11:30pm - Girls open bar 11:30pm - 12:30am • Guys free entrance until 11:30pm in groups with an even ratio of women or groups with more women than men - reduced cover charge if not even ratio
Saturday 9/30 - Deejay AL • Girls free until 11:30pm - Girls open bar 11:30pm - 12:30am • Guys free entrance until 11:30pm in groups with an even ratio of women or groups with more women than men - reduced cover charge if not even ratio