Location: Paris Hotel
Nights: Thursday, Friday, Saturday
Music: Top 40 & Open Format
Bottles Included: Yes
Starting At: $200
Chateau Las Vegas Table Prices
How Much Is Chateau Bottle Service?
Common bottles of alcohol at Chateau are priced between $400 and $600. You'll receive the pricing for all items on the Chateau menu upon arrival at your table. When you make a reservation, you are booking a table that includes a minimum spend, or an amount that is included that all goes toward your choice of alcohol. The prices do not include 8% tax, 15% gratuity.
Pricing can vary quite a bit depending on the date, the performer, how many people are in your group, or how many particular tables are left. Check out upcoming Chateau events. Bottle service more than you have budgeted for? Check out the Chateau guest list instead.
What Is Included With Chateau Bottle Service
With Chateau VIP options each group receives the following benefits:
Cover charges included
Hosted entry
Bottles included
Table for the entire night
VIP waitress
Top tier customer service
What Is The Best Table At Chateau?
The best tables are located on the dance floor. They are large in size, can accommodate bigger groups, and have direct views of the performers and visuals. It is not uncommon to find these table options priced at $750+.
What Is The Cheapest Chateau Table?
How Does Chateau Bottle Service Work?
Reserving a table for Chateau has been greatly simplified. All pricing is outlined up front including taxes and tips so there are no surprises. Once the booking is complete your reservation is confirmed. You will easily check in at the table service area located on the left side of the club. This area is for bottle service groups only.
Be aware that your reservation comes with the table for the entire night as well as your own waitress, busser, and security staff. You'll be granted your own spot that is separate from the general public to dance, drink, sit, and enjoy the event. Also, bottles are included. If you have more questions about bottle service in Las Vegas feel free to Contact Us.
How Do I Book Bottle Service At Chateau?
Booking table service for Chateau Nightclub is a snap. We outline the total price with taxes, tips, and fees included so there are no surprises when you arrive at the club. Booking is easily done online using our
Chateau Nightclub booking page
.
Do We Need To Book In Advance?
We highly recommend reserving all tables for Chateau in advance, because they often increase in the price or sell out completely. The last thing you want is to try and secure one last minute and find out that none are left.
Chateau Table Maps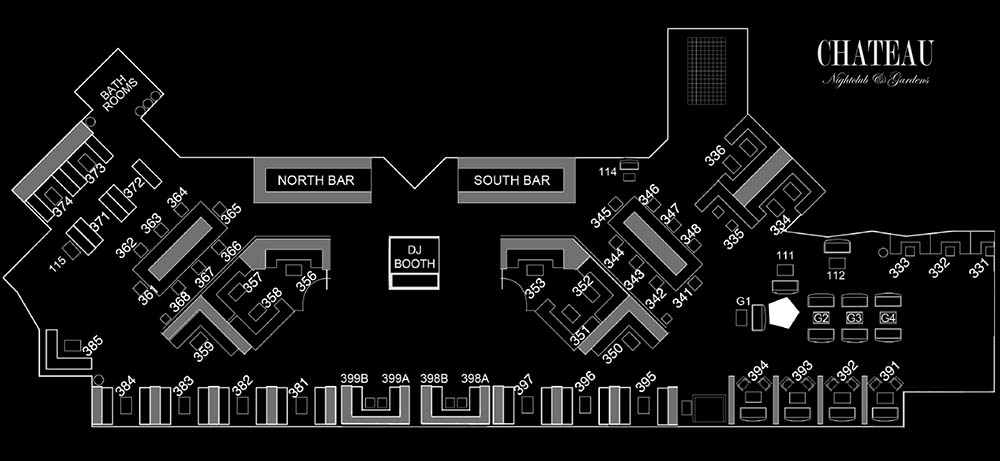 Chateau Table Locations
Ready for bottle service? Reserve your table and as your personal host we will send you confirmations and keep you in the loop each step of the way. Select your table:

Table Service Reservation Dates