About Lavo Party Brunch | The Complete Guide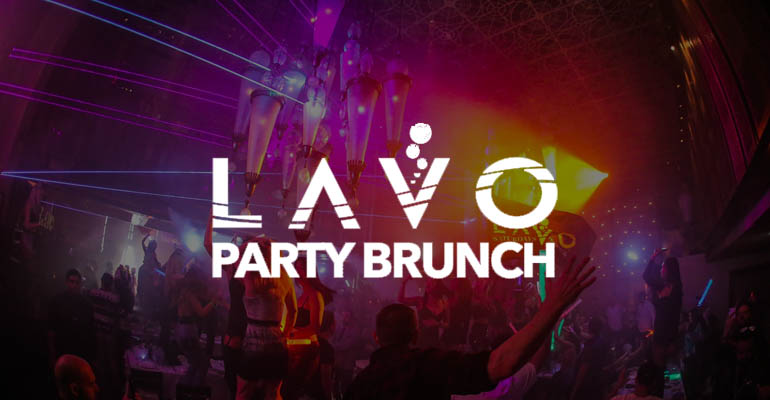 Lavo Party Brunch is one of the most unique dayclub parties in Las Vegas. It goes down each and every Saturday afternoon during the fall and winter months. For these events the day starts somewhat normal. Guests arrive and start their drinking at the bar or at restaurant style tables with full service brunch food options. The music is upbeat, but still a bit chill as things are getting going. After a few drinks the mood starts to change, and suddenly the curtains are pulled down, the room gets dark, the music erupts, and the show begins. Sparklers and lights take over, go go dancers emerge, and the party takes off.
Welcome to Lavo Brunch. The perfect spot to make Saturdays in Las Vegas a party like nowhere else.
Those looking for Lavo Party Brunch bottle service, table reservations, pricing, and menus can find that information on the Lavo Brunch Bottle Service Page.

Where Is Lavo Las Vegas Located?
Lavo Brunch is inside the Palazzo Hotel property located at 3325 S Las Vegas Blvd, Las Vegas, NV 89109.

How To Get To Lavo Brunch
The entrance to Lavo is right next to the front desk area of the Palazzo Hotel and Casino and the main valet. The easiest way to get there is to head towards the main entrance.

How Much Does It Cost To Get In?
Entrance costs for Lavo Party Brunch can vary depending on the event and/or the performer. Typically the price for male entry is between $30 & $50 and for female entry is between $20 & $40. VIP bottle service costs vary quite a bit depending on the event and table location. For free entrance options see our Lavo Party Brunch Guest List.

When Is Lavo Party Brunch Open?
The operating hours of the Lavo party are Saturdays (seasonal) from 1pm until 7pm.

What Music Is Played At Lavo?
Open format music, a blend of dance, hip hop and top 40 is the most common music genre at Lavo. Things start calmly and pickup into a full club-like party as the day continues.

What To Wear To Lavo Brunch?
There is a dress code to attend Lavo Party Brunch. To avoid any problems at the entrance guests should wear clothing typically worn to a nice dinner or a nightclub. Avoid wearing clothing like athletic wear. Lavo often throws themed or costume parties which allow a lot of flexibility with the dress code.

Contact Lavo Brunch
Have more questions about Lavo Dayclub? Our team is here to help. Head over to our Contact page and feel free to reach out to us via phone or email. We will quickly respond and provide answers, suggestions, or insight.

Upcoming Lavo Party Brunch Events
Lavo Brunch Floor Plan
Lavo Brunch Photos
Lavo Brunch Videos