Location: Cromwell Hotel
Days: Friday, Saturday, Sunday
Music: Open Format, Top 40, Hip Hop
Size: 35,000 sq-ft
About Drai's Beachclub | The Complete Guide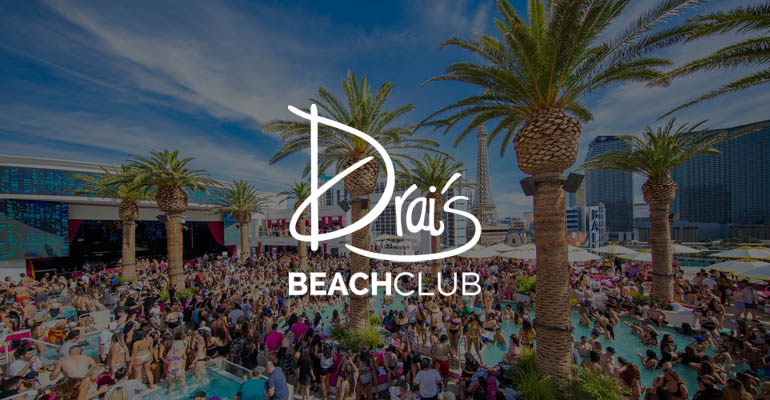 Drai's Beachclub is the only rooftop pool party in Las Vegas, and brings an elegant feel to the daylife scene. With two levels of luxury bungalows and cabanas, multiple pools, and two bars, Drai's pool is any day partier's dream. The 10 towering palm trees add a natural feel to the deck, and views of The Strip are nothing less than stunning. Headlining DJs provide the music for each energetic day party, and the dayclub's setup temps guests to explore the entire venue.
Nowhere else in Las Vegas can you party at a rooftop pool venue, and Drai's has nailed it with a luxurious and fun-filled setup. Every part of their venue looks and feels enticing. From the cabanas, to the palm trees, to the DJ booth that pumps the hottest tracks to guests ready to party the day away. On top of it all be ready for live hip hop artist performances throughout the summer. If you are looking for a Drais Beach Club promoter you have landed in the right place.
Those looking for Drai's Beachclub bottle service, table reservations, pricing, and menus can find that information on the Drai's Beachclub Bottle Service Page.

Where Is Drai's Beachclub Located?
Drai's Beachclub is located in the Cromwell Hotel property located at 3595 S Las Vegas Blvd, Las Vegas, NV 89109.

How To Get To Drais Beachclub
The entrance to Drai's Beachclub is the same entrance they use for the nightclub located in the center of the Cromwell Casino gaming floor. Know that the Cromwell valet is quite small and can get backed up on popular weekend dates. Give yourself a little extra time to get to Drai's Beachclub.

Drai's Beachclub Virtual Tour
How Much Does It Cost To Get In?
Entrance costs for Drai's Beachclub can vary depending on the event and/or the performer. Typically the price for male entry is between $30 & $75 and for female entry is between $20 & $50. VIP bottle service costs vary quite a bit depending on the event and table location. For free entrance options see our Drai's Beachclub Guest List.

When Is Drai's Beachclub Open?
The operating hours of Drai's Beachclub are Fridays, Saturdays, and Sundays from 11am until 5pm.

What Music Is Played At Drai's Beachclub?
Open format music (a blend of all music types) is the most common music genre at Drai's pool parties. Hip hop will also be common when hip hop artists are the headliners for specific events.

What To Wear To Drai's Beach?
There is a dress code to attend Drai's Beach. To avoid any problems at the entrance guests should wear pool attire. As one would imagine swimsuits, sandals, tank tops, sneakers, sundresses, and hats are all ok. Avoid wearing clothing like jeans or athletic wear.

Contact Drai's Beachclub
Have more questions about Drai's Beach Club? Our team is here to help. Head over to our Contact page and feel free to reach out to us via phone or email. We will quickly respond and provide answers, suggestions, or insight.

Upcoming Drai's Beachclub Events
Drai's Beachclub Floor Plan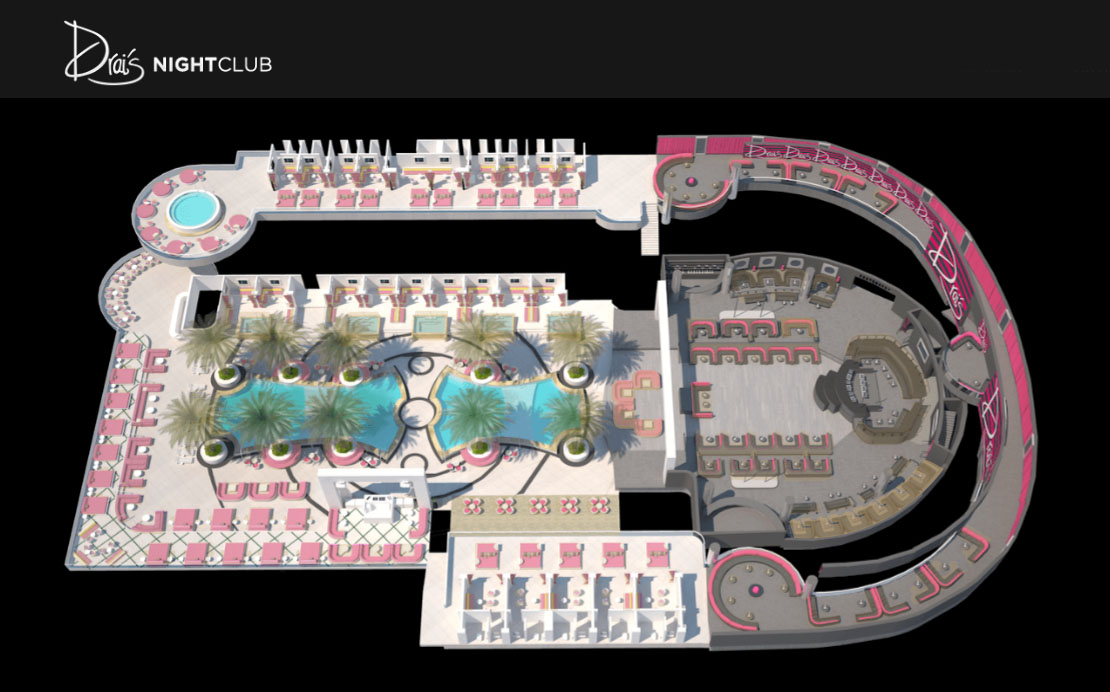 Drais Beachclub Photos
Drais Beachclub Videos