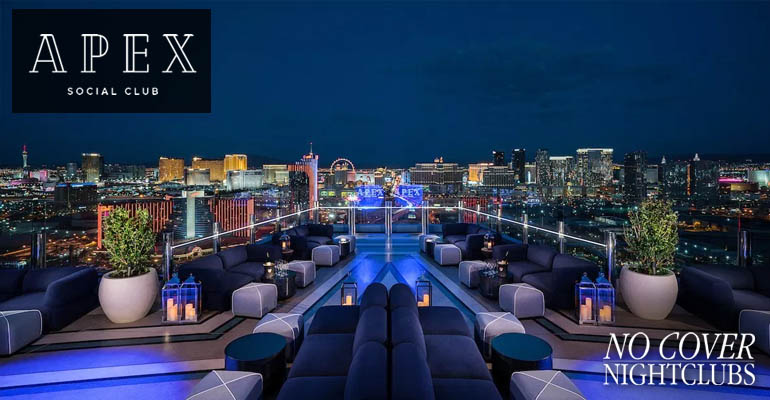 NIGHTS OPEN: Thursday, Friday, Saturday, Sunday
LOCATION: Palms Hotel & Casino
You are one step away from having the ultimate experience at Apex Nightclub. Guarantee your bottle service today and enjoy an assigned Apex Club VIP host and bypass all general admission lines.
Common bottles of alcohol are priced between $450 and $650. Please see the Apex menu below. These prices do not include 8% tax and 20% gratuity. The price for the tables and the bottles are the same thing. All of your spend for the table goes toward your bottles. As a minimum in Vegas it is common that you will need to purchase at least 1 bottle for every 5-6 people in your group.
Bottle service tables for Apex Social Club start at $250. Tables at this entry price will be located on the side of the venue. Tables at the front of the main room rooftop deck start at $900 and the best tables are located in the center of the venue priced at $1,350.
How Does Apex Bottle Service Work?
When you make a reservation for bottle service through our site you are making a reservation directly for Apex Nightclub. You simply arrive at the club and check in with the hosts at the table reservation entrance. Be aware that your reservation comes with your own table and area to sit as well as your own waitress, busser, and security staff. You'll be granted your own spot that is separate from the general public to dance, drink, and enjoy the event. If you have more questions about bottle service in Las Vegas check out How Las Vegas Bottle Service Works.
Upcoming Events
Have Questions About Table Service?
If you have any questions before making your reservation about the nightclubs, the service, how it works, or anything else, feel free to reach out to us and we will get right back to you through our Contact Us Page.
Reserve Your Bottle Service At Club Apex
Ready for bottle service? Reserve your table and as your personal host we will send you confirmations and keep you in the loop each step of the way. Select your package:

The VIP treatment at Apex Social Club in Las Vegas lives with tables and bottle service. Previously home to GhostBar, this magnificent upgrade must be seen. You'll first be blown away of the view of the Las Vegas strip, and then you'll notice there is something that is sexy and fun about the design, and that the music is just on point. Table options are available both on the rooftop deck or in the interior. With your table you'll have quick entrance and your own table, seating, and areas to dance and socialize for the entire night. Bottle service prices, menus, and availability can be provided to you by directly connecting with a Apex VIP host using our form above.
The best tables inside of Apex are located next to the dance floor and near the center portion of the outdoor deck. The top nightclub experience always come with the VIP treatment that accompanies such a reservation.
Get all the information about apex Nightclub hosting and bottle service reservations. Feel free to ask about Apex's bottle prices, menu, and availability.